To sign up for Meridian's Free Newsletter, please CLICK HERE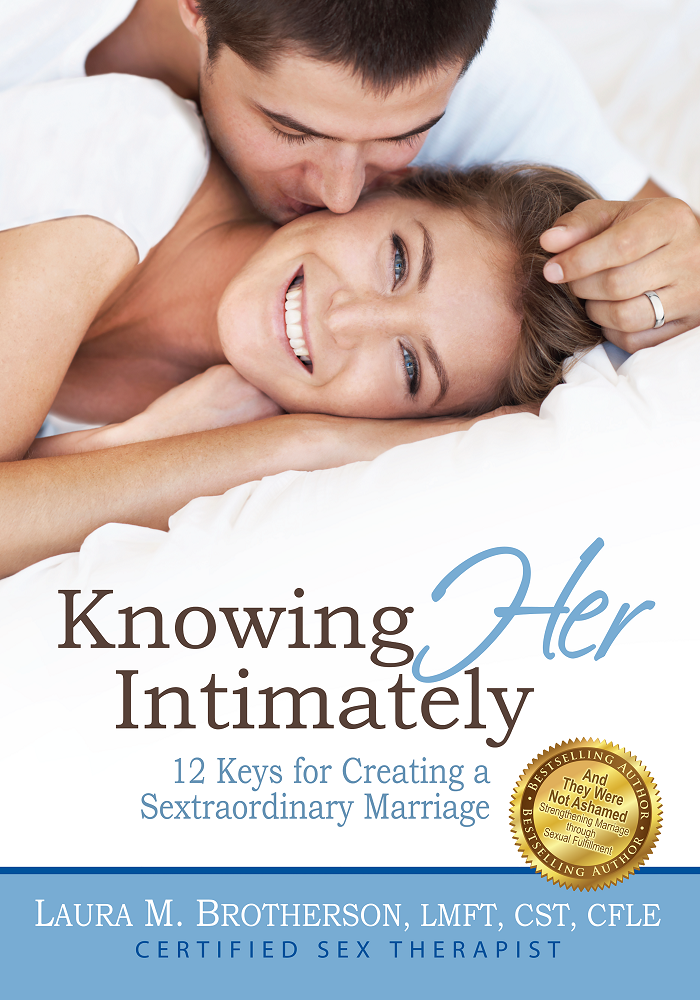 To Truly Know Her 
The Bible uses an interesting term to refer to sex: "Adam knew Eve his wife; and she conceived" (see Genesis 4:1, 17, 25, emphasis added). Sexual relations between husband and wife are beautifully described with the verb "to know." To truly know your spouse and have your spouse truly know you—mind, body, and soul—represents the highest form of connection—that of ONEness. The "Big O" isn't orgasm. It's oneness!
Knowing our spouse involves so much more than just the act of sex. It's an experience of the heart, mind, body, and soul. The way women are wired sexually provides a perfect opportunity for couples to connect in a much more profound way than just the physical—though that's also an important dimension. To know a woman the way she wants to be known includes the whole relationship, with sex as just one delightful part.
Borrowing the biblical term for sex, my new book's title, Knowing HER Intimately, is an all-encompassing description of the overarching objective of this book—for both husbands and wives to come to truly know each other intimately and sexually. The focus of the book will be "knowing" her intimate wiring. To be so known can be a little scary. It requires vulnerability and trust. To be known so fully—warts and all—and still be loved is exhilarating. It's a significant component of what makes for extraordinary lovemaking and a "sextraordinary marriage."
12 T's of Female Sexual Wholeness
In my first book, And They Were Not Ashamed: Strengthening Marriage through Sexual Fulfillment, I discussed three "T's" of female sexual desire—"Talk," "Touch," and "Time." In my new book, Knowing HER Intimately, that has expanded to include 12 "T's" of female sexual wiring. This new how-to handbook puts the essential elements of female sexual wholeness into accessible and understandable aspects, each beginning with one of 12 "T's."
The 12 building blocks in this book guide couples through the intricacies, inhibitors, and importance of intimate connection in marriage. Husbands (or the higher-desire spouse) will be given nuggets of information throughout the book as well of how he can best help her along the journey to sexual wholeness.
Like my first book, Knowing HER Intimately will be frank and hard-hitting, while also a respectfully reverent resource on sexual intimacy. It again affirms the sanctity of sex in marriage as wholesome, good, and of God. While digging deeper into the underlying aspects of the intimate relationship outside the bedroom (especially vital to women), aspects of the sexual relationship inside the bedroom will be tackled as well.
12 Essential Ingredients for an Extraordinary Sexual Relationship
The table of contents for Knowing HER Intimately reads like a condensed recipe of key ingredients for fulfilling female sexuality—necessary for a sextraordinary marriage. This list of 12 "T's" is an overview, providing a quick peek of what will be discussed in more depth throughout the book. We'll address what it takes to have an intimately connected sexual relationship—especially from the perspective and needs of a woman:
Transformed. A woman must transform her identity by embracing the idea that she is a sexual being. It needs to be seen as a good and important part not only of her marriage, but also of her wholeness and aliveness. She must commit to awakening and nurturing her sexuality, taking responsibility for her sexual desire and fulfillment.
Thoughts. Women need to program their minds with positive, affirming thoughts and core beliefs about sex, their sexuality, and their bodies. Not only that, but they need to program their minds about their husband, his body, and their marital and sexual relationship. Developing the mental discipline to be able to focus one's thoughts, and keep out inhibiting mental distractions during lovemaking, is needed.
Tenderness. This ingredient, along with thoughtfulness, trust, respect, etc., represents the foundation of a secure emotional connection upon which a sextraordinary marital relationship is built.
Time. With so many things on a woman's plate, it's vital that she provide enough time and energy for sexual learning, and fulfilling lovemaking, so that these things receive priority time and attention.
Transition. Because women are generally a few steps away from a state of sexual desire most of the time, they must develop a transition process to get them from 0 (or wherever they are starting from) to 60 sexually.
Talk. Talk is the primary means by which emotional connection is created and personal sexual preferences are discussed. Conversation is necessary for couples to be able to tune into each other well. Talk is a powerful part of the arousal process through sensual communication within the context of lovemaking.
Touch. Non-sexual touch or affection (with no strings attached) is needed, particularly outside of bedroom activities. Within lovemaking, a significant degree of sexual stimulation is needed in order for mutual sexual fulfillment to occur.
Technique. Couples must be educated on sexual wiring differences between husband and wife, and know the specific intricacies of the female sexual response, in order to work well within those realities. Each spouse must identify and share their specific sexual preferences and desires, which can't be learned from a book.
Tuned In. Couples need to tune in well to themselves and to their spouses. The ability to read and respond effectively to each other's nonverbal cues and body language is critical. This is true both within the emotional relationship, and for creating a passionate sexual experience within the bedroom.
Teasing. Flirty playfulness adds the spark that's often missing from long-term relationships. Understanding the benefits of fun and playfulness, as well as some how-to's, can take the relationship to a whole new level of intimate enjoyment.
Treats. While the element of teasing and playfulness improves the tone of the overall relationship, adding "Treats" into the mix increases the novelty, creativity and adventure in the marriage. This is necessary for long-term marriages to thrive by keeping things fresh, new, and exciting.
Transcendence. The sexual climax is an involuntary response requiring a state of transcendence. It isn't something a husband can fully do for his wife without her willing participation. Sexual surrender is something she must be willing and able to relax into, and let herself experience, in order to fully enjoy the ecstasy of sexual intimacy and oneness.
Often minimized, a woman's sexual potential is incredible. This book celebrates her intimate potential, helping husbands and wives make the most of the intimate experience. For the benefit of her wholeness, and for the strength of the marriage, an awakening and development of sexuality within marriage is vital. Sexual wholeness may seem unimportant to the wife who has not yet made sexuality a priority. Nevertheless, sexual development in the marriage goes to the heart of her personal development and completeness. This ultimately allows for the ecstasy of mutual intimate enjoyment in marriage as God's intended gift for husband and wife.
Excerpted from the Introduction of Laura M. Brotherson's new book — Knowing HER Intimately: 12 Keys for Creating a Sextraordinary Marriage.
——————————-
Licensed Marriage and Family Therapist (LMFT) and Certified Sex Therapist (CST), Laura M. Brotherson, is the author of the best-selling book, And They Were Not Ashamed: Strengthening Marriage through Sexual Fulfillment, and her latest book Knowing HER Intimately: 12 Keys for Creating a Sextraordinary Marriage. She counsels with individuals, couples and families in private practice (and online), and is the host of "The Marital Intimacy Show" podcast. As a Certified Family Life Educator (CFLE), Laura is actively engaged in providing marriage education through Couples Cruises, articles, radio and television broadcasts, and presenting at conferences and workshops. Laura is passionate about helping couples navigate the intricacies of intimacy to help build stronger marriages and families. She and her husband, Kevin, of 25 years are the founders of StrengtheningMarriage.com—your trusted resource for education, products and services to strengthen marriages… intimately!
You can connect with Laura at:
Website: www.StrengtheningMarriage.com
Facebook: www.facebook.com/StrengtheningMarriage/
Instagram: @StrengtheningMarriage